I've had several previous posts (start with Wrestling Training Part 1) about going through training camp run by Eddie Sharkey and Terry Fox.
On July 19th, local wrestling promotion Steel Domain Wrestling (SDW) presented Eddie with a long-overdue Lifetime Achievement award during their annual show at the Raspberry Festival in Hopkins, MN. The following week, I attended a dinner held at Poor Richard's Commonhouse in Bloomington, MN to honor Eddie's accomplishments and share stories about his long career in wrestling.
Eddie started wrestling back in the 1950's on the carnival circuit. He was trained by Boris Malenko, Bob Geigel, and Joe Scarpello. He made his wrestling debut in the AWA in 1961. Eddie wrestled Harley Race and had memorable feuds with Danny Hodge, Bob Boyer, and Jack Donovan.
After ending his relationship with the AWA due to a "disagreement" (a more interesting version can be found here), Sharkey got out of the wrestling business to spend more time with his wife and kids.
In 1982, two young bouncers approached him at the bar he tended in Minneapolis and asked if he would train them to be professional wrestlers. Sharkey agreed, and they would become the hottest tag team of the 80's – The Road Warriors.
He continued to train wrestlers and run wrestling cards on a regular basis with his Pro Wrestling America (PWA) promotion. Wrestling historians and fans alike would say he was responsible for the 80's boom of professional wrestling. The talent he trained is a who's who of the big names of the time. Besides the Road Warriors, there was Jesse Ventura, Bob Backlund, "Ravishing" Rick Rude, Barry Darsow (one half of the tag team Demolition), the Destruction Crew (Wayne Bloom and Mike Enos), Nord the Barbarian, and Nikita Koloff. Later years would produce Rick and Scott Steiner, Sean Waltman, Jerry Lynn, Charlie Norris, Lenny Lane, Ricky Rice, Derrick Dukes, The Warlord, Tom Zenk, J.W. Storm, Madusa Miceli, Josie, ODB, Austin Aries, Shawn Daivari, and Bam Neely.
On the local scene we can also thank him (and Terry Fox) for such independent wrestlers as Horace the Psychopath, Mitch Paradise, the High Rollers, "Playboy" Pete Huge, "Big Daddy" (Brody) Hoofer, Black Stallion, Lacey, Rain, Robbie and Mike Thunder, Ian Xavier, the Mighty Angus, K-Train, Scott Free, Helmut Von Strauss/Justin Lee, Travis Sharpe, and Storm Wolf among others. Oh, yeah… and Darin Davis.
Eddie is still involved with Prime Time Wrestling (PTW) and running occasional shows under the Pro Wrestling America name.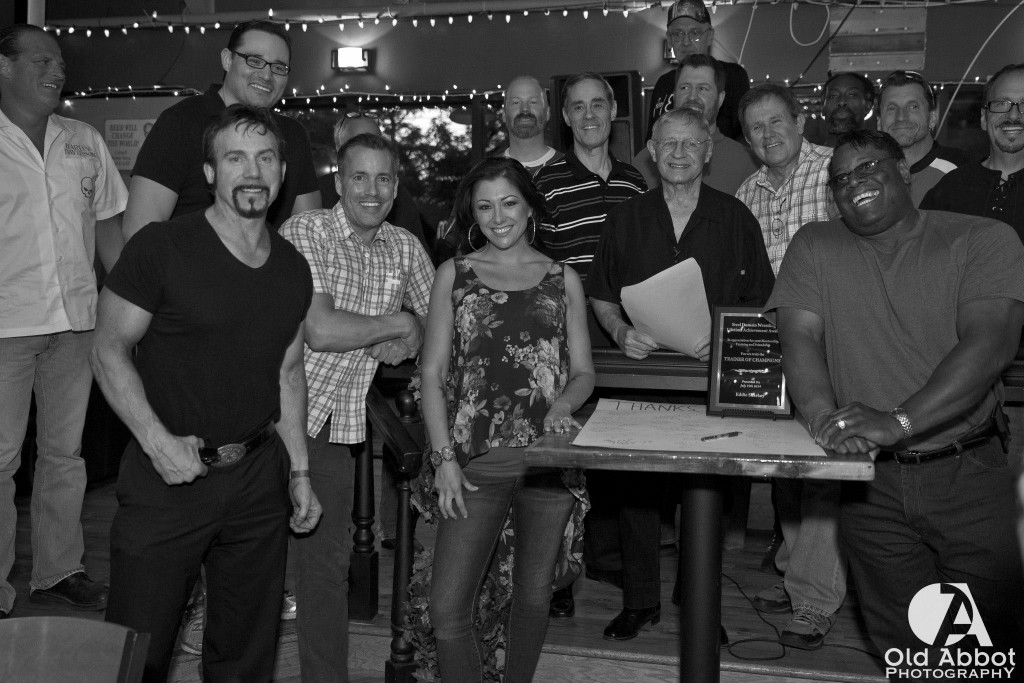 At the dinner, hearing Eddie and his longtime friends tell stories was very entertaining (some of the stories are referred to in a City Pages article from the early 2000's that I'll post about separately). It was clear that the older days in wrestling were a more dangerous time for the talent (i.e. less security in arenas), but they also managed to have a lot of fun. And it was great to see a lot of the boys I used to work with show up for this event, some of which are pictured in the group photo above.
To Eddie, I'd like to say thank you for all your wisdom and encouragement while I was going through training camp with you and Terry, and while I was working for your promotions. It probably was the best experience of my life.
As I am still somewhat involved on the local scene, hopefully there are still more of these moments to come.