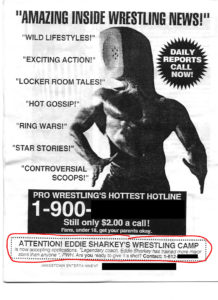 Twenty years ago today, I walked into a place called the Peacemaker Center in Northeast Minneapolis, MN for my first day of pro wrestling training camp with the "Trainer of Champions" Eddie Sharkey. The building was used to teach some Native American studies, but it also doubled as a youth center. The wrestling ring was set up in a corner of a large, open room that also housed a boxing ring, heavy bags, and other workout equipment. Several teenagers and young adults were there learning to box. While we were at this location, I was the only trainee. Billy Blaze and Marty Hamilton (a.k.a. The Joker/Jokester) were helping Eddie out with the training. I also had a boxing trainer that went by the name of General Chang as my (inexperienced) wrestling partner. Occasionally we were getting a couple of guys from the northern part of the state, but they had a three hour round trip so eventually they stopped showing up.
Within a couple of months the place closed- I don't remember the details of why. Eddie then teamed up with wrestler Terry Fox to restart the camp in Coon Rapids, MN. With Sharkey, Fox, additional trainers "Thunderblood" Charlie Norris and Sam Houston, and a bunch of new talented recruits, it turned out to be a very good summer.
In the late fall, we moved the ring to St. Louis Park, MN so that we could be inside Terry's garage. And that's where the camp remained the rest of the time I was there. In the winter the ring was in the garage, and spring through fall it was outside.
In the years that I was there, the trainees that I can recall were Robbie and Mike Thunder, Hellraiser Gutz (a.k.a. ECW's Bam Neely), PrimeTime, "Opera Man", the Mighty Angus, referee "Diamond" Joe, Hellraiser Blood, Thor Tyler, "Playboy" Pete Huge, Big Daddy Hoofer (Brody Hoofer), Ultimate Fighter Brad Kohler, "Andy" (forgot his ring name), Mitch Paradise, Shawn Daivari (a.k.a. Sheik Adnan Bashir in TNA), "City Slicker" Jake Ricker, Ian & Ashley Xavier, K-Train, Scott Free, The Sheriff, Shifty, Lacey, Crystal, Ladyhawk, Cynnamon, Sandy from FL, Morgan P.R., "Ray" (don't remember his ring name), Austin Aries, Helmut Von Strauss/Justin Lee, Smilin' Jack Daniels/Devin Nash, Black Stallion, Drej, Travis Sharpe, Storm Wolf, "Stone Cold" Doug Johnson, Troy "Don't Call Me Goldberg" Steel, Chuck Diesel, "Superstar" Steve Stardom, some kid from China (?), and the High Rollers.
At one point I remember counting 17 people training all on the same day. Crazy. Some doing in-ring drills, some on mats outside the ring, some working on punches and other holds. Then "musical chairs" and everyone rotates.
Besides the camp regulars, on Fridays we sometimes had wrestlers from out of town including neighboring states (mostly Wisconsin and Iowa) work out at the camp. They usually were coming in to work a Saturday show and got in a day early to get a little extra ring time. Guys like Travis Lee, Red Lightning, Jay Hanna/Mr. Destiny, T.S. Aggressor, Kamikazee Kid, Rain/Payton Banks. Some former Sharkey trainees like Red Tyler and Lenny Lane would also stop by occasionally, along with local wrestling "celebrities" Tim Larson and "Capital City" Kyle.
I wrestled for five years, working for MIW, PWA, FLWA, SPCW/SDW, WrestleAmerica 2000, WTW, NWF, IWA (Canada), and several others I forgot. Then I broke away from the business for six or seven years (longer story). I ended up getting pulled back in at the beginning of 2009 when K-Train was making a return to the ring. He asked me to come out to the show at Roberts Sports Bar, and I showed up… with my gear in the trunk (just like Terry taught me). I got put into the "Roberts Rumble", similar to the Royal Rumble where combatants enter the ring at fixed time periods, and at one point the last few guys left in the ring were me, Robbie Thunder, Pete Huge, Mitch Paradise, and I think Hoofer. It really brought back a lot of memories of those days in the backyard at Terry's.
After that, I started refereeing again and have reffed for MIW, SDW, PTW, and Battleground. At the end of 2014, I got back in the ring as a wrestler and wrestled Pete Huge, Rob Justice, Chris Jordan, James Dawson, Scott Story, PJ Thorn, and Mitch Paradise over the course of a year.
I don't know exactly how I expected my wrestling career to go, and my expectations have certainly changed over the years. I know I thought I would wrestle for a much longer period of time. I thought when I took a break in early 2002 it would be for six months to a year, not for thirteen years (til the match in Dec of 2014- I'm not counting wrestling in the Roberts Rumble in 2009). Some of that I had control over and some I didn't. I know that I'd like to wrestle a few more times before hanging it up for good (if there is such a thing as "for good"). But it's a race against Father Time and it can be at odds with some of my other interests and priorities. And, to be honest, there are a lot of younger, hungry, talented guys (and gals) out there that deserve one of the limited spots on a show more than I do.
I'm really glad to see that the local independents are still going strong today. And that I had the privilege of working out at Terry Fox's MIW training camp (up in the orginal Coon Rapids location) during the summer of 2015 and getting some ring time with trainees Scott Story, JD Bandit, Aiden Wake, "Stonehenge" Joseph Wayne, referee/manager Tom T. Butterman, and occasionally "Rock Solid" Ross. It makes me feel good about the future to know these guys are going to be carrying the torch.
Overall I can look back and really appreciate the time I had as part of the business and working alongside of, or across the ring from, some really great people (and a few assholes). Thanks to all my fellow wrestlers, referees, promoters, and fans that made all the years worthwhile.
Darin
FYI, I posted a more in-depth account back in 2008 about on my wrestling training experience. If you're curious to find out more, start with the first part called Wrestling Training and it should also take you to Part 2 and Part 3.