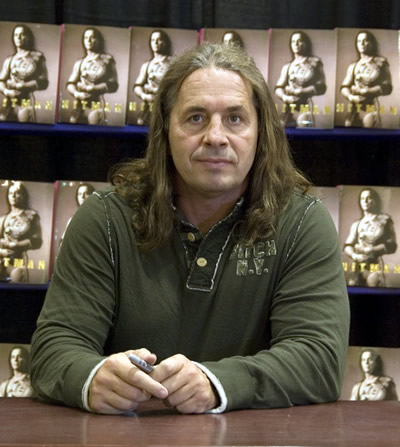 Just happened to see on the Pro Wrestling Torch web site that the "Hitman" Bret Hart is going to be at the Mall of America in Bloomington, MN at 6:00pm on Thursday Nov 20th. He'll be signing his autobiography, "Hitman: My Real Life in the Cartoon World of Wrestling" at the Nickelodeon Universe store.
I wasn't planning on going, but I thought I'd pass it along. Tour dates for other cities can be found in the same article.
There is an interview at PW Torch where Hart says he's saying goodbye to the wrestling business after the book tour:
"I'd be happy being remembered for really brilliant storytelling in my matches, not for some last chance to snap up some money,"…"I respectfully understand my light in wrestling is fading. I can live with that."

"I just wanted people – even my kids – to walk in my shoes and know that it was never easy being gone all the time. I was pretty much on the road for 300 days a year and that didn't include travel back and forth."
You can find more information at Bret Hart's official site.