I wrote a couple of months ago (TNA Towel: 2, Believability: 0) about the TNA Bloody Towel ™ making another appearance on the Thursday night TNA Impact! program. Well, good ole' "BT" was seen again on the broadcast last week after Mr. Anderson got Black Hole Slammed on a big pile of (candy) glass.
See the TNA Bloody Towel ™ in all its glory at about the 2:08 mark:
Since the towel has now gotten more air time than TNA president Dixie Carter, I figure TNA should just add the thing to their official roster.
Think of the marketing potential for this. Since they just signed with Jakks Pacific to have a line of action figures made, now is the perfect time to add it. And I don't mean as just a wrestler accessory, I mean as a thing a kid could play around with.
I'd stand in a fairly short line to buy one.
If the action figure route doesn't pan out, they could always hire the ShamWow guy hawk it on late night TV.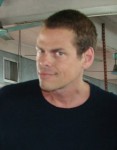 "Look'it the way this thing soaks up the fake blood."
"Are you gettin' this camera guy?"