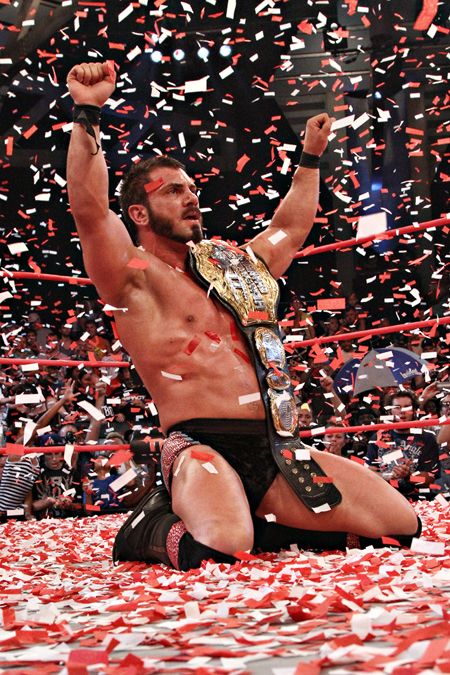 Congratulations to Austin Aries for becoming the TNA Heavyweight Champion after defeating Bobby Roode at the TNA Destination X pay-per-view on July 8th, 2012. Aries chose to end his 298 day reign as TNA X-Division Champion to get a shot at the World title, and it paid off.
Of course, you've probably known this for quite awhile before reading it here, so I'll get to something you may not have known. Aries trained with Eddie Sharkey and Terry Fox (and later with a different wrestling camp) when he made his debut in the Minneapolis,Minnesota area. This was the same camp I was a part of (which I have described in a few previous posts, starting with Wrestling Training).
It was at the same time that Sheik Abdul Bashir (Shawn Daivari) and Bam Neely (Hellraiser Gutz) were being trained. Daivari would later go on to work for the WWE, TNA, and ROH. Neely would work in ECW and the WWE.
I still remember a conversation that occurred when Aries first got into the business. I was talking with some visitor to our wrestling camp – I don't remember if it was an out-of-town wrestler or a promoter, but it doesn't matter. It started with a single question.
"This guy is really good. How long has he been training?", the visitor asked.
I pretended to look at a wristwatch I didn't have and said, "About 45 minutes."
He kind of chuckled and responded with, "No. I don't mean low long today. I mean how long, in total, has he been in wrestling training."
I looked at him with a straight face and said, "About 45 minutes."
We just looked at each other for a few seconds as if we both knew we were witnessing something special. That this guy, barring injury, would go on to become something great. That he had shown enough talent in less than an hour to convince any promoter that his 5'9″ frame didn't matter.
Aries has a current tag line of "Austin Aries- The Greatest Man Who Ever Lived". In the context of professional wrestling, that may turn out to be completely true.