Yep. I hinted at it in my previous post, but didn't want to come out and say it to keep the spoilers to a minimum.
I'll do a follow-up post later to talk about what things had to happen for me to get back in the ring again. Below, I'm only going to describe it from the perspective of a fan watching it unfold the night of the event.
It started out with me refereeing the first match of the night, James Dawson vs. Scott Story. I've been a ref for MIW at their Chanhassen events for about 6 years, so nothing out of the ordinary.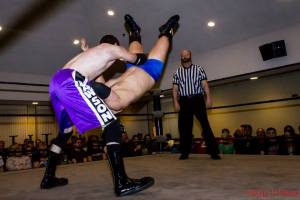 As I was heading to go out the curtain, "Playboy" Pete Huge, Chris Jordan, and Rob Page were coming out to do an interview segment. Pete told me to stay put. Jordan got on the mic first and talked about his upcoming match that night against JD Bandit. After he was through, he handed the mic to Pete, who said something along these lines:
"I am the MIW Heavyweight Champion. I am one half of the MIW Tag Team Champions (with Jordan). You would think I would be satisfied with these two belts. But I want more."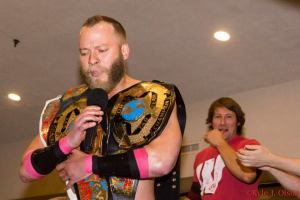 He then pointed to MIW commissioner Terry Fox and said:
"Earlier this week, I called up Terry Fox and asked him to bring in the dormant MIW TV Championship belt. It turns out the last TV Champion was referee Darin Davis, who used to wrestle as Dr. Darin Davis, and he hasn't defended the belt in thirteen years! I want that belt, so I challenge you to a match for the MIW TV title."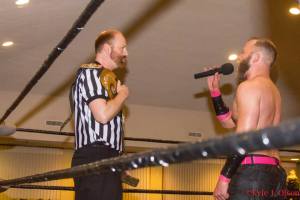 I responded that I already have the belt and I haven't wrestled for over a decade. Why would I come back only for the chance to lose it? What's my incentive? Pete, Chris, and Rob Page conferred and Pete said that he would put the MIW Heavyweight title on the line. I agreed and the match was set for later that night.
The match happened, the glove came out, but in the end I lost and Pete Huge is the MIW TV champion. I managed to get a few moves in along the way and it seemed like the crowd enjoyed it. I doubt that they will ever mention the TV belt again though, as it was just an angle to pull me back in, so this storyline is probably over. As more opportunities come up, and depending on how I feel, I'm going to be wrestling at least a couple more times. [Update: the next time is Jan 3rd 2015]
Here are a few pics from the match:
photo credit: Kyle Olson at Knocked Out Entertainment