I defeated Officer Rob Justice with a "Proctoplex" (a.k.a. Perfectplex, a.k.a. fisherman suplex) at the the MIW show on Jan 3rd in the Chanhassen American Legion.
This was my second match back after a 13 year hiatus. This one felt good as I was able to enjoy myself more when I was out there and be more aware of my surroundings. My first match back I had to concentrate so hard to compensate for things that were no longer muscle memory that I wasn't able to be present and enjoy it as much.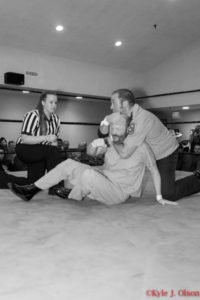 The next MIW show in Chanhassen is Saturday Mar 7th. I am up for wrestling more matches, but at this time I'm not booked on that show and I don't know what my next date will be. I'll post it here and on Facebook (drdarindavis) when I know it.
Photo credit: Knocked Out Entertainment