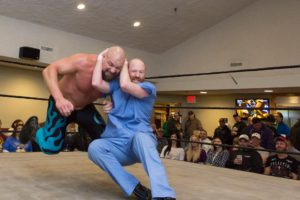 Last weekend, I took a trip down to Paradise City to get my butt handed to me. I wrestled Mitch Paradise for the first time since the spring of 2001. Mitch has been a mainstay of the wrestling scene ever since coming out of camp in the late 90's, and is still at the top of his game. I, on the other hand, took a 13 year leave from wrestling and have had a handful of matches within the last year. This was also my first match back since tearing my hamstring last August and I was still having issues.
Mitch came out victorious after getting me into a cross face for the second time of the night where I couldn't get to the ropes. But not before my latex buddy made an appearance. Maybe if I get another shot someday things will come out differently. I would even consider taking a few shortcuts if it gave me an advantage.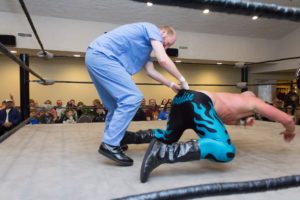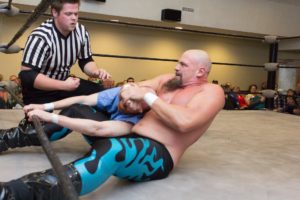 Thanks to MIW for booking me, and thanks to the fans for showing up and supporting local pro wrestling.
Photo credit: Knocked Out Entertainment
In all honesty we've had much better matches and I felt like we were a little out of sync the whole night. I'm seen nearly all of his matches for MIW and many for PTW in the last five or more years and they have all been outstanding, so I think it was me. I haven't seen any video and had several people tell me it was a good match afterward, but I feel I could have done a lot better. I can't change the past, so I can only try to do better next time.